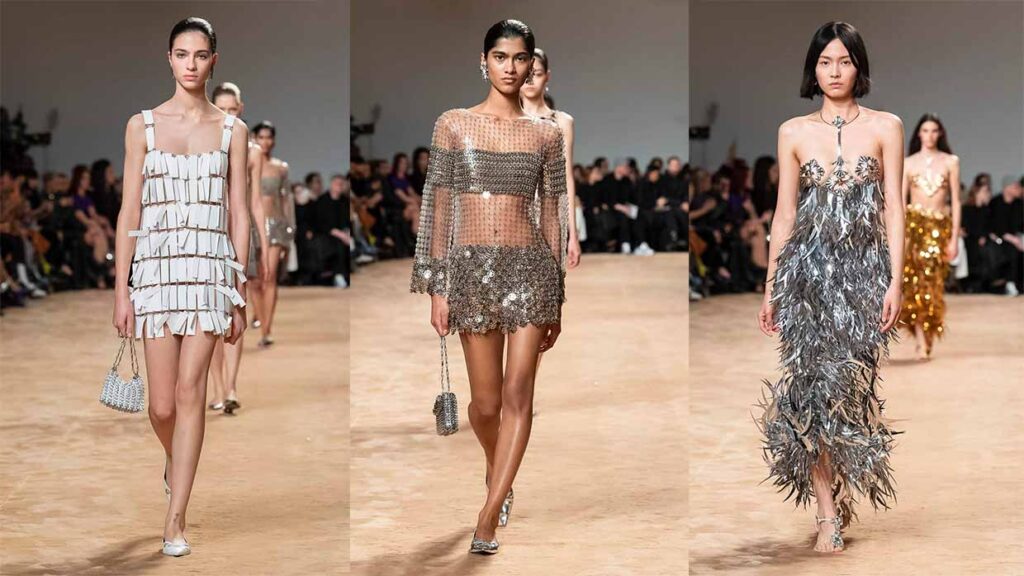 Ideas that spring from the unconscious into a white space like a waking dream. A surrealist spirit grounded in a real-world sensibility. Unexpected materials, the perpetual pursuit of Paco Rabanne, emerge with new intrigue. Sensations are translated through the symbolic pillars of design: colour, form, volume, movement.
On the surface, this collection reads like an exploration of textures. What looks like fur is hairy wool. Shards of lurex appear sprinkled atop knitwear. Metal mesh seemingly morphs into leather. Gauzy mousseline studded with strass gives an eerie smoked effect, a shimmering shroud. Metallic decoration suggests the coat of a fantastical, mechanized creature. Clear crystals dangling from dresses resemble ice cubes.
In this modern material awakening, Julien Dossena channels the historic friendship between Paco Rabanne and Salvador Dalí: two Spanish visionaries linked by their radical artistic expression. From women outfitted in contemporary armour to landscapes unbound by natural laws, they created parallel and, at times, overlapping worlds that were at once magical, mystic and mysterious.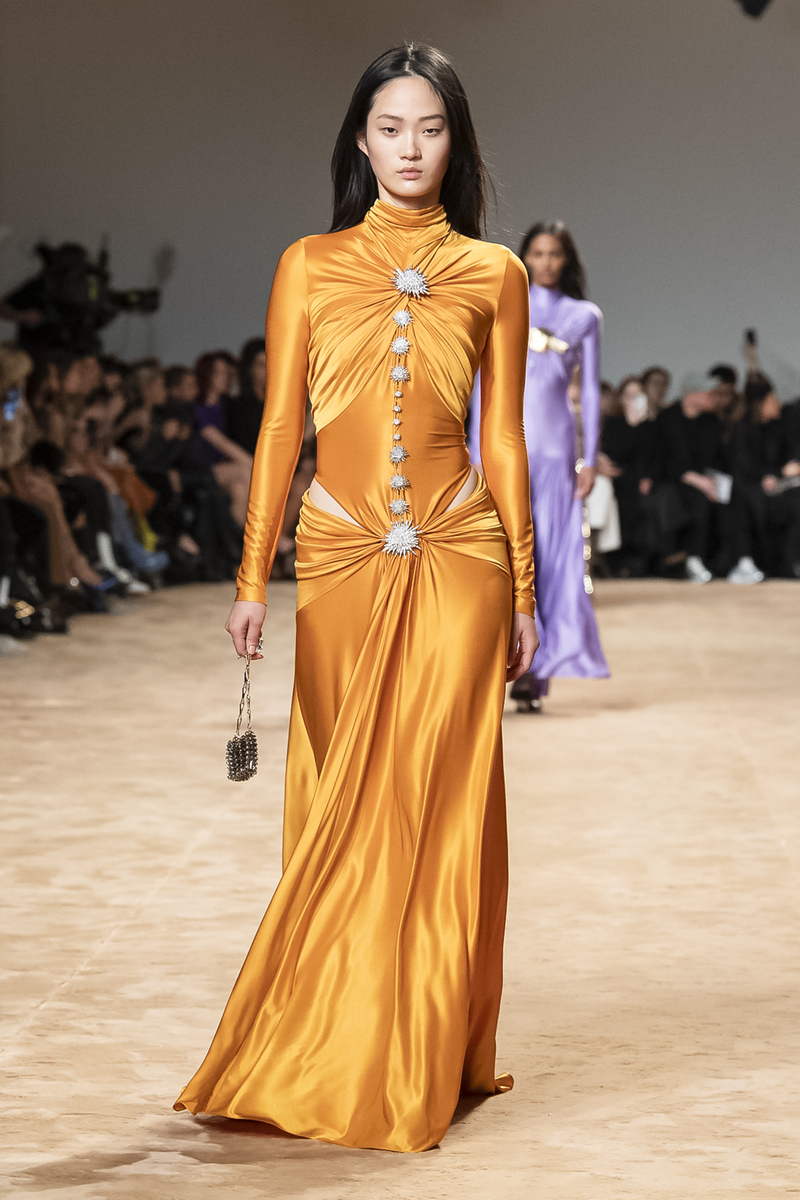 With participation from the Fundació Gala-Salvador Dalí, the collection features four paintings – including The Shades of Night Descending (1931) and Sun-Table (1935) – that become both distorted and dimensional through assembled panels. Extracts from the artists' imagination show up elsewhere: a bejeweled pomegranate virtually throbs at the gathered heart of a flou dress; small telephones dangle from earlobes.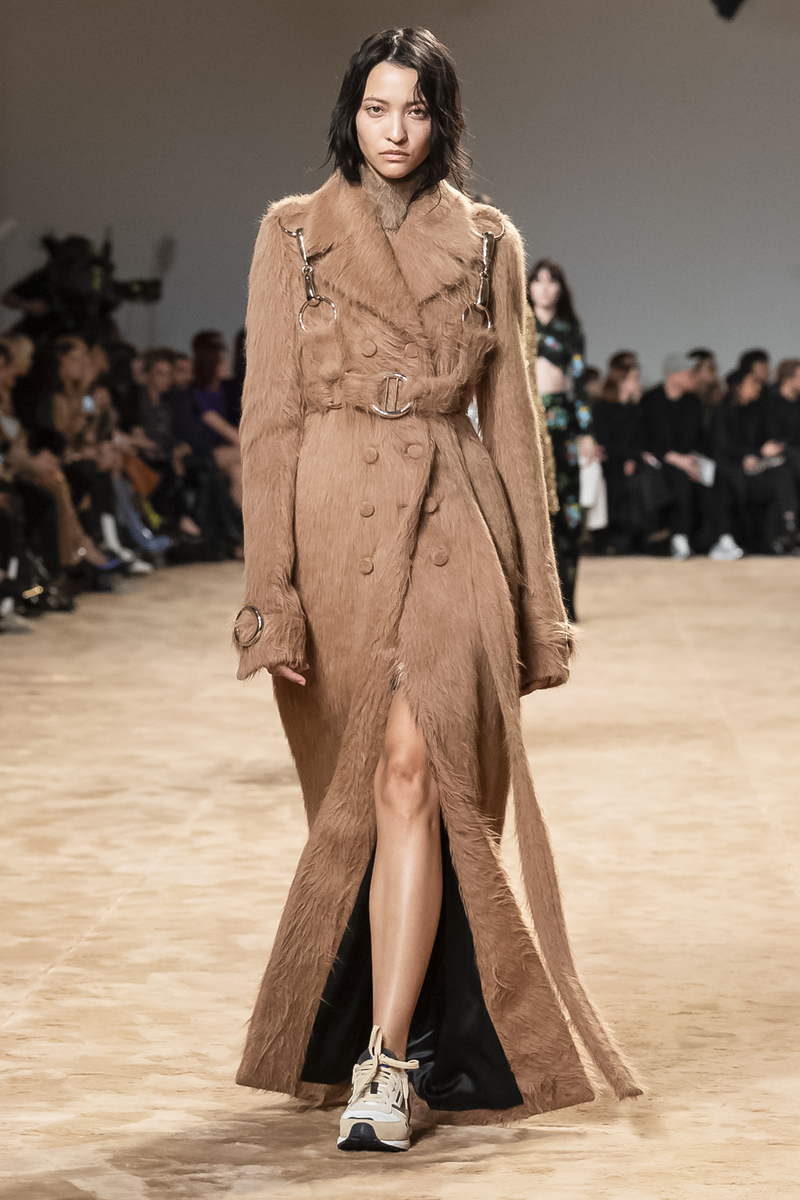 Statuesque silhouettes make a sensual impression: long and direct with shifting focal points – tied at the décolleté, exposed around the core, draping and pooling towards the ground. Austere statements that nonetheless envelop the body. Synthetic lavender, sfumato blue, ochre and almond bring subtle richness to gleaming metal and elemental black.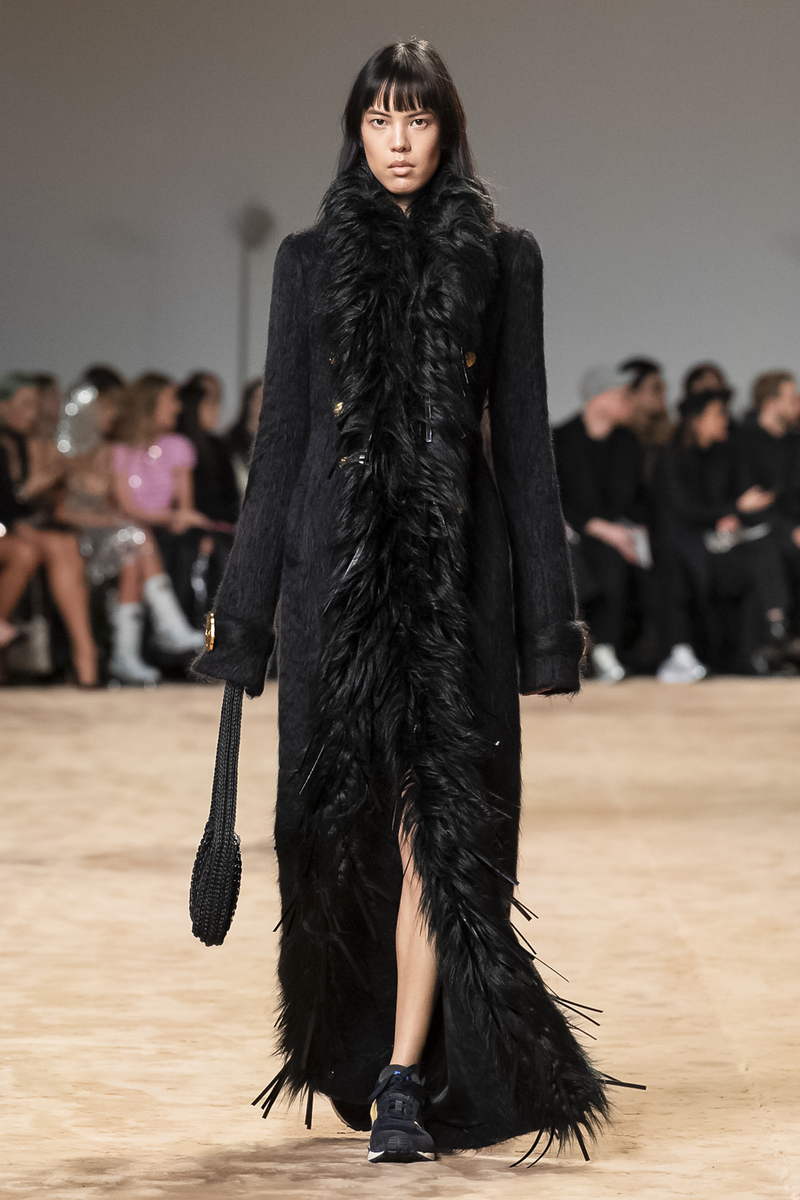 Interspersed throughout the sequence of looks, leather boots that fit like second skin boast reflective wedges as though floating. Pointy silver flats recall the earliest decade of Paco Rabanne, while a new retro sneaker grounds coordinated pieces with a '90s allure. Bags revisit signature elements as evolved studies: pastilles torqued and twisting; glossy colour atop the assemblages; organic, compact shapes.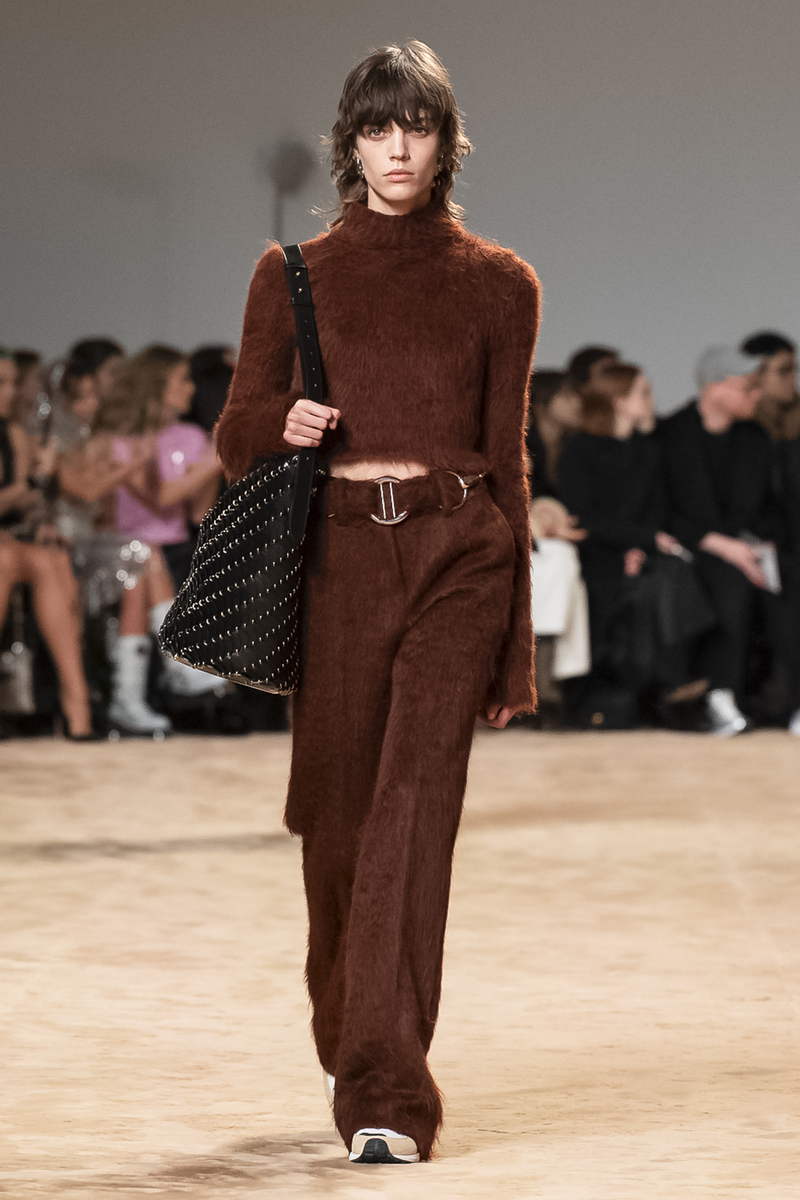 As a coda to the couturier's legacy, the show ends with five archive creations accompanied by spoken extracts atop the soundtrack. Spanning five decades, these dresses signal the innovative craftmanship that will always define the timeless and totemic women of Paco Rabanne.