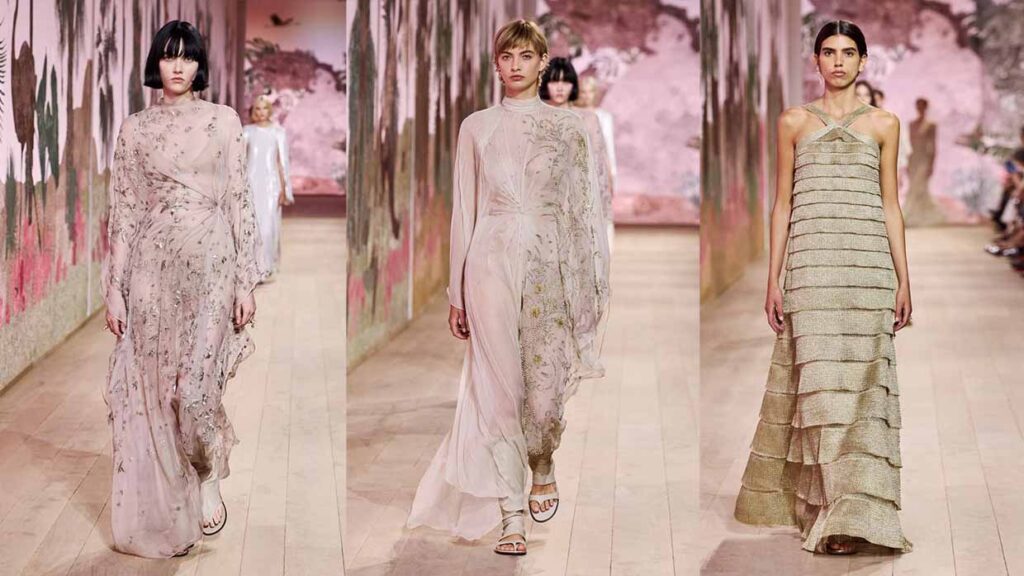 Haute couture shapes and constructs its own temporality. A specific tempo that reflects the processes and excellence that couture demands in its creation. A time apart, meticulous, that animates memory and imagination with a dual movement: couture evolves according to a liturgical rhythm, where the past is integrated into every beat of the present. In the Atelier, there are no paper patterns, as the sketched form is morphed into a dress in the image of the imprint, embracing the body's singularity.
Maria Grazia Chiuri pursues her ideals with this Dior haute couture autumn-winter 2023-2024 collection, which refines to perfection the sartorial elements that can be described as archetypal: the tunic, the peplum, the cape, the stole. Maria Grazia Chiuri's encounter with Marta Roberti, an artist whose work transforms the catwalk into an art gallery, is part of this return to sacred sources. "I studied the iconographies of various goddesses, who are almost always associated with animals, and I presented myself imitating their postures, initially in a performative way, copying their poses and movements with my body, incarnating their peculiarities until I made them my own." Thus, it is inspired by the words and approach of Marta Roberti, who draws (on) goddesses, that the Creative Director of Dior women's lines has taken up the poetic gesture of couture merging dress and body.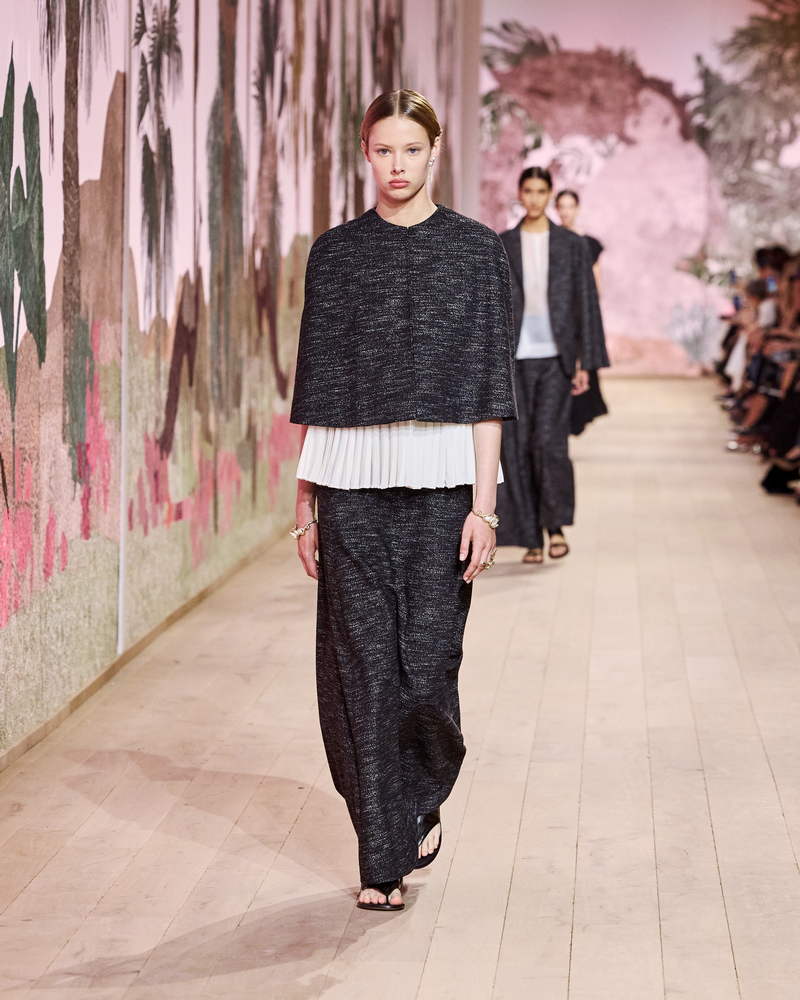 Models compose a hieratic sequence as if in the steps of all the divinities who have ruled and still rule the world. A vertical silhouette, flat shoes. The colors selected are white, beige, silver and pale gold. Jackets and coats are structured by folds beneath the chest, evoking classical statues and the fluting of columns. Pearls, symbols of purity, are featured in numerous embroideries. Intertwined with silver threads they glimmer iridescently. The shimmering textures of the sixties enjoy a revival, embellishing long skirts and dresses. Wool and cashmere occupy a key place; a cape evocative of a holy garment, sometimes embroidered, enhances a variety of outfits. Pleating plays a leading role, notably present on the sleeves of men's jackets.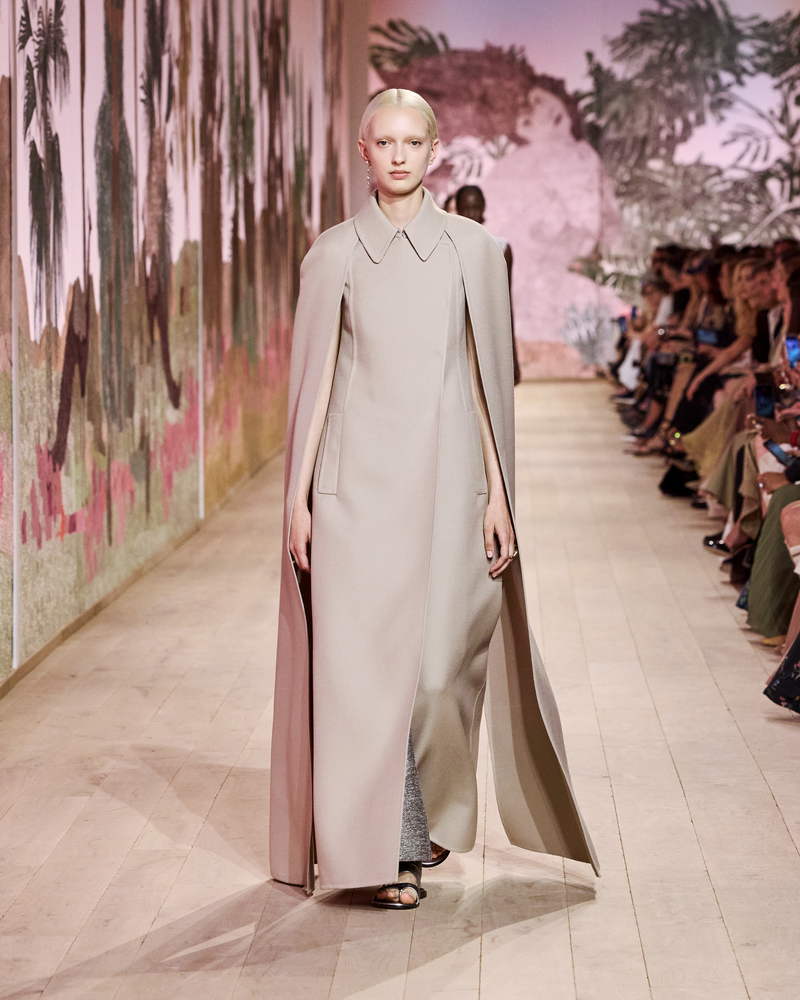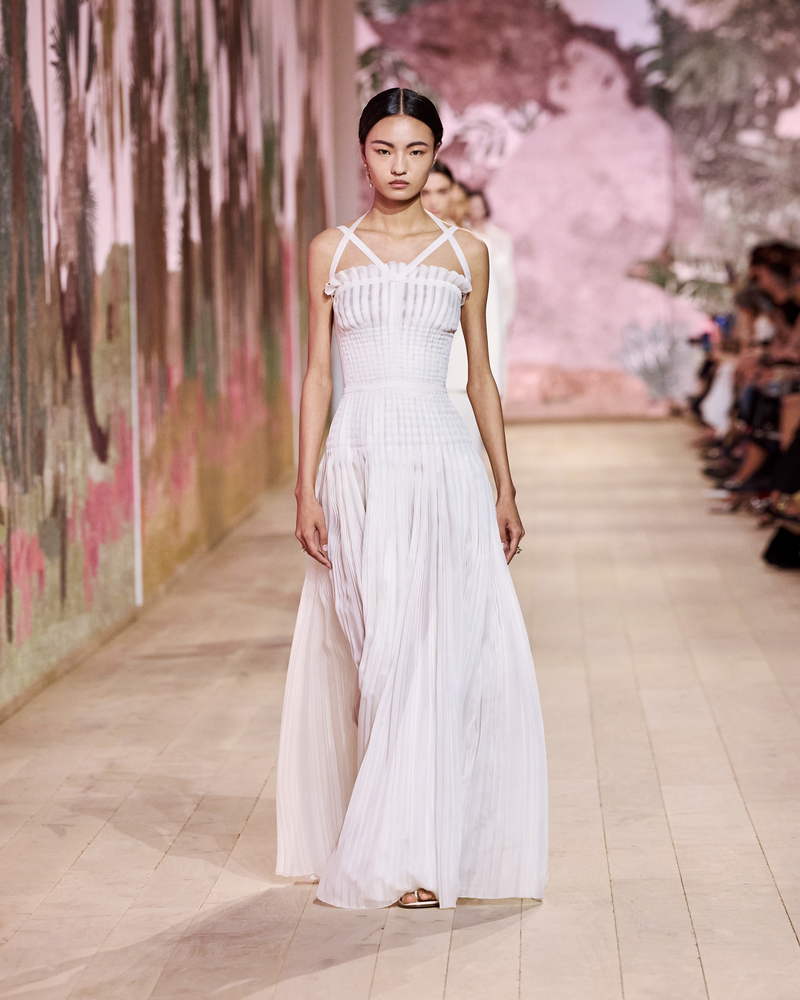 By perpetuating the cult of the goddess and reinterpreting the founding emblems of antiquity, the défilé becomes a contemporary ritual, illustrating the strength and fragility of femininity, which supports and sustains the community we form. Recalling the past, it guides us towards a vision of the future endowed with sensitivity and essential attention to detail.