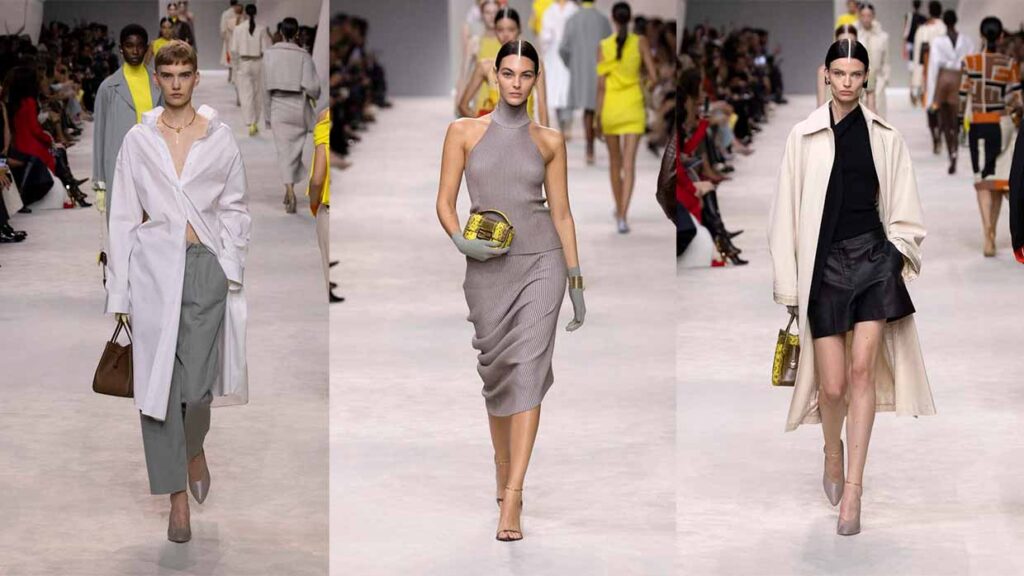 A walk-through Rome, where the ordinary is amplified and becomes extraordinary; histories are intertwined with the past becoming present and where insouciant personal style reflects the inner world of the wearer.
In the latest collection, Kim Jones explores an ease of dressing with a certain Roman freedom, where imperfection becomes a more human perfection and where luxury is found in the comfort and quiet confidence clothing and accessories give the wearer to be themselves. A sense of duality – a very FENDI quality – permeates the collection.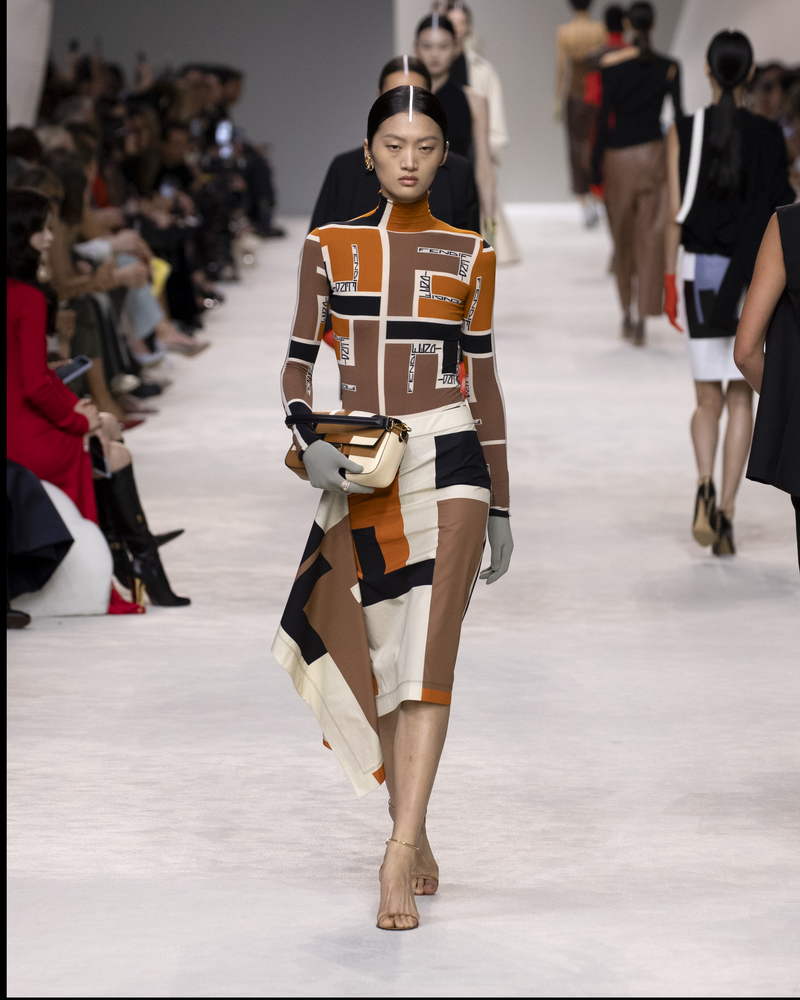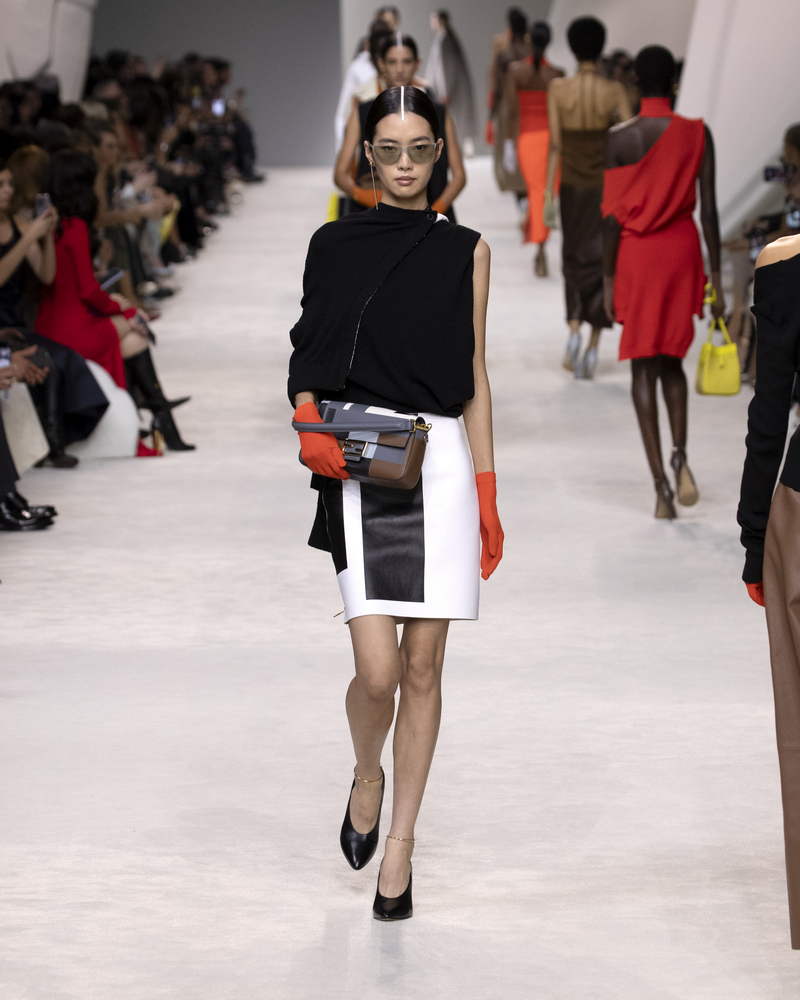 Simultaneously pragmatic and playful, masculine tailoring and materials, such as the finest kid mohair, are applied to a more fluid and feminine sensibility when combined with silks and knits. The traditional curtain waistband of tailored trousers is folded over to reveal its construction and often united with sinuous knitwear; the washed silk of an evening dress slips into the day-to-day; organza-backed strips of soft shearling – a utilisation of FENDI's famed Featherlike construction – are made into towelling-like summer skirt suits with work shirts; an over-sized masculine car coat finds a feminine echo in metal anklet ballet car shoes, with a practical studded bottom employed for ease and grip. In short, masculine utility and comfort come together with a feminine flourish, with the agency of the wearer in mind.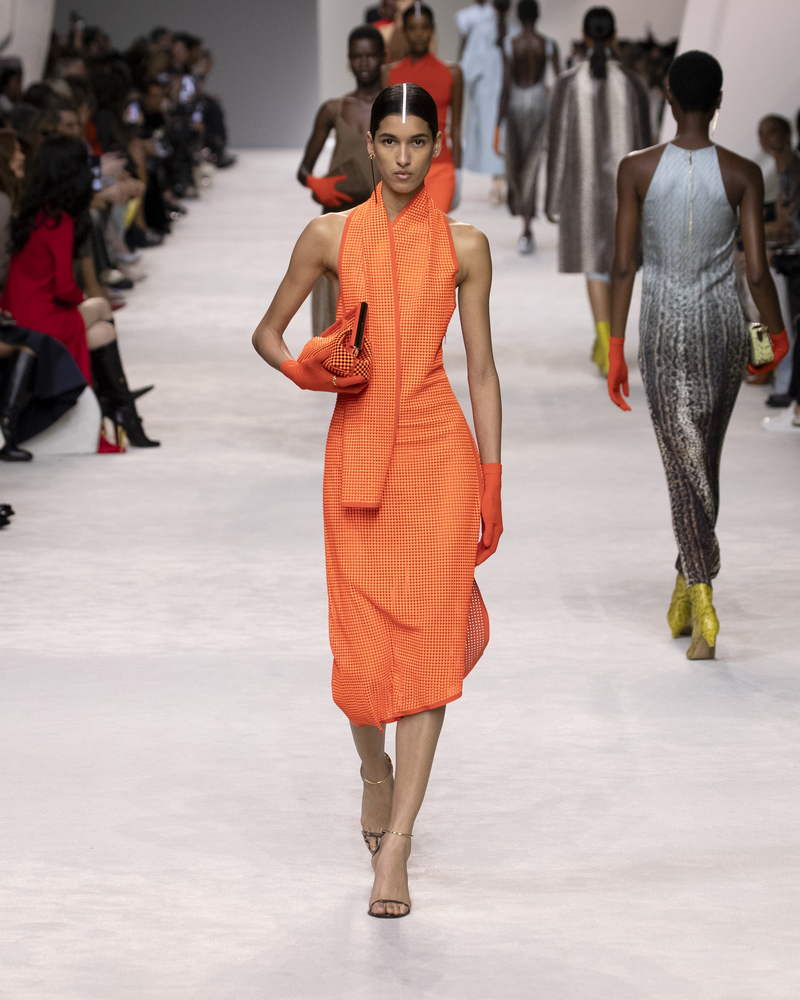 Simultaneously, FENDI's past is made present in recurring codes and motifs that stretch back to the beginnings of the House. The linking thread of the Selleria stitch ties all categories of the present collection together and back to the past of its fashion and leather goods. From its initial inspiration and creation by Roman master saddlers, the Selleria finds form in leather bags and garments to eventually metamorphosing into metal thread hardware on shoes and is reiterated in FENDI Filo jewellery by Delfina Delettrez Fendi, FENDI Artistic Director of Jewellery. A playful and abstract exploration of the FF logo is once more found in the jewellery and in the clothing collection, where it reaches its bold apotheosis in completely abstract FENDI colour-blocking in intarsia leathers and structured, strapless knit dresses. The off-kilter palette – itself a signature – is largely taken from Karl Lagerfeld's Women's Spring/Summer 1999 collection for the House where key dresses were also found and reworked such as the acid yellow coated linen slip and the trompe l'oeil silks made for today with silicone Framis prints.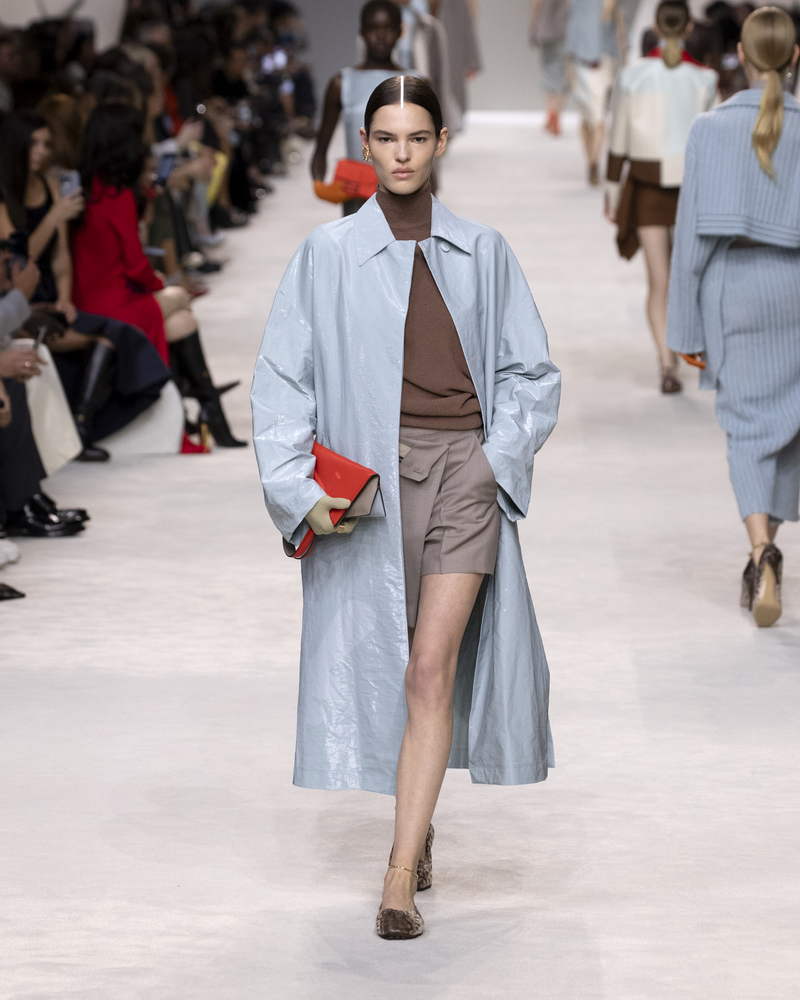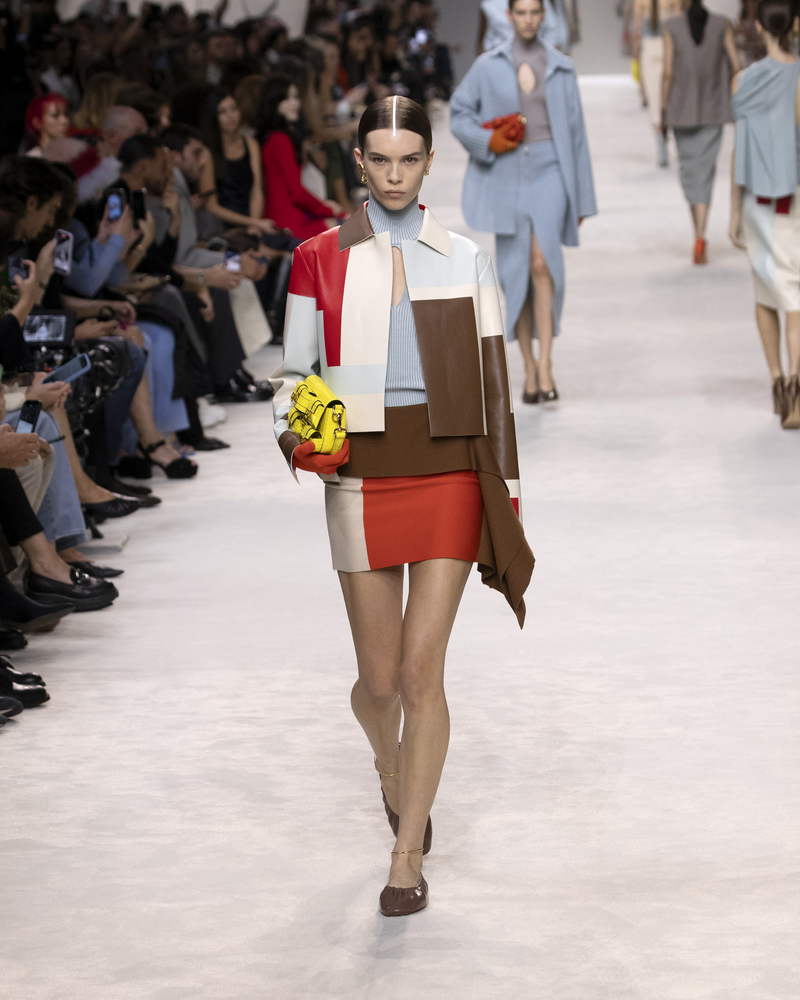 In Silvia Venturini Fendi's bags, Artistic Director of Accessories and Menswear, a plethora of styles, sizes, materials and techniques reflect the character of the different wearers. Eschewing the idea of one diktat, the collection takes in the sweep of FENDI pop iconography through FENDI Peekaboo and Baguette, Origami and First bags, while introducing the new Flip, a shopper that folds into a clutch, with a playful, colour-blocked construction. Here there is a reiteration that there is not just one FENDI woman, but many FENDI women with an encouragement for them to be themselves and embrace the idea of Roman freedom.