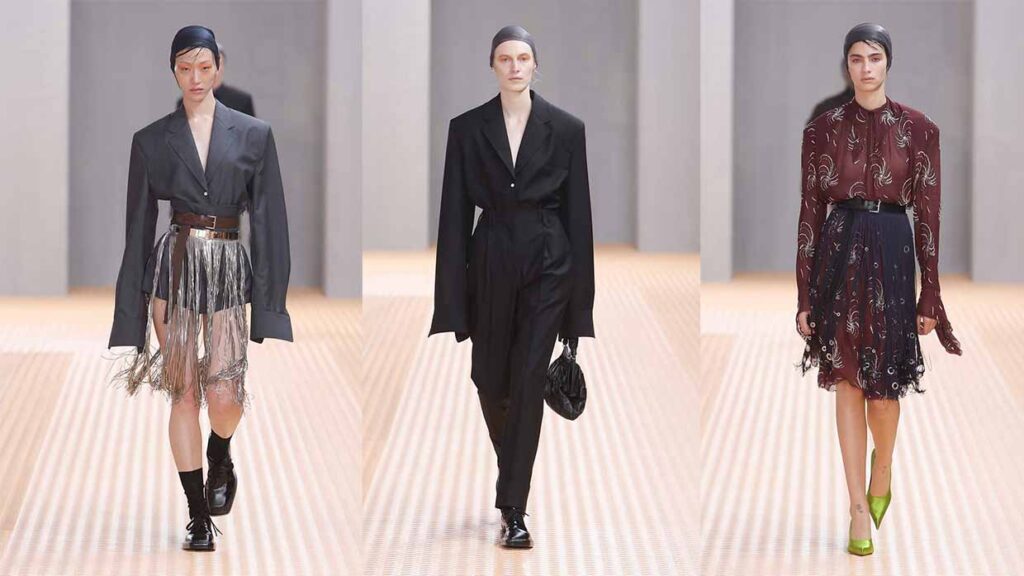 The Prada Donna collection for Summer 2024 is an ode to sophisticated tailoring and craftsmanship. The entire collection is a celebration of luxury fabrics and refined details, clearly expressing a sense of discreet luxury and timeless elegance.
The pieces range from wool shorts suits with belt, a piece that combines comfort and style, to printed georgette dress fragments adding a touch of femininity and grace. One of the pillars of the collection is the "Haze" dress in superfine organza and gazar, a masterpiece of lightness and refinement, presented in different variations.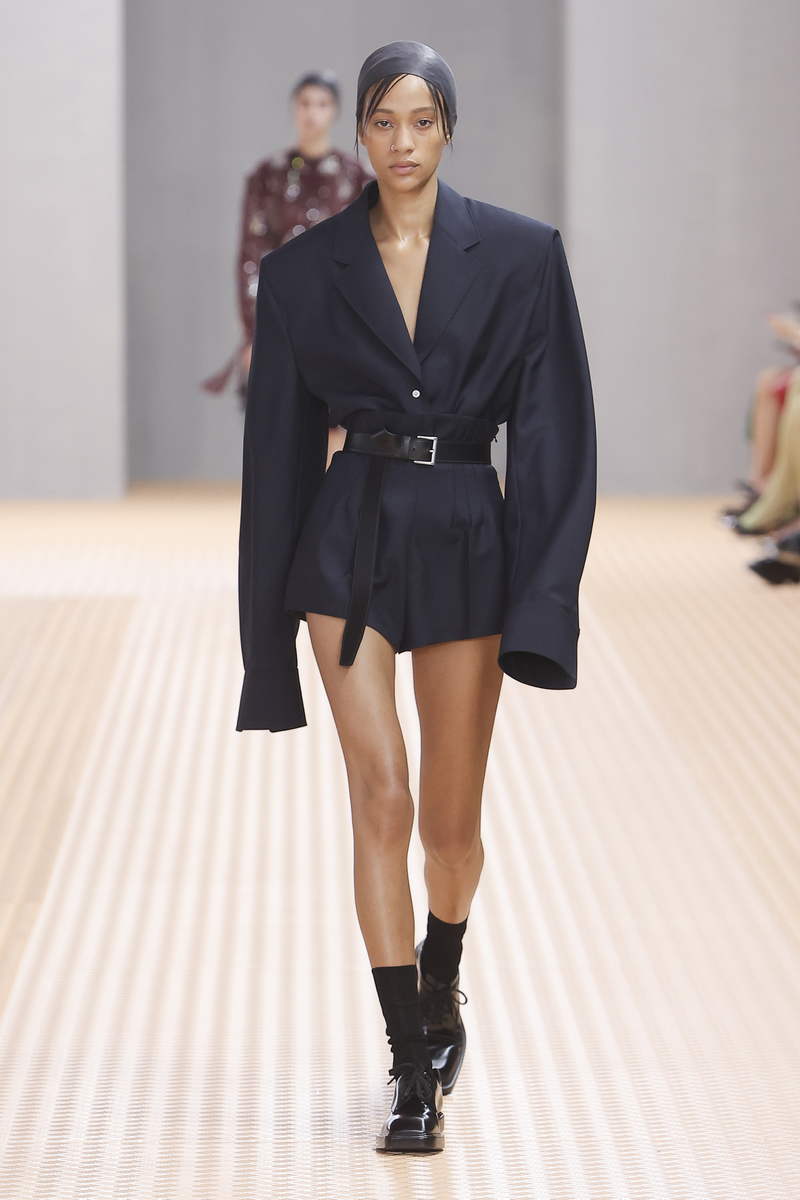 The poplin printed shirt with printed fringes, paired with wool shorts with belt, is another winning combination, balancing the elegance of the shirt with the comfort of the shorts. This look was further enhanced by a jewel-encrusted silver fringe skirt with chain effect and belt, creating an intriguing contrast with the more casual shorts.
The collection also featured more structured pieces, like the wool suit and utility caban in hand-treated cotton and patent leather. These pieces communicate an image of strength and determination without compromising on femininity.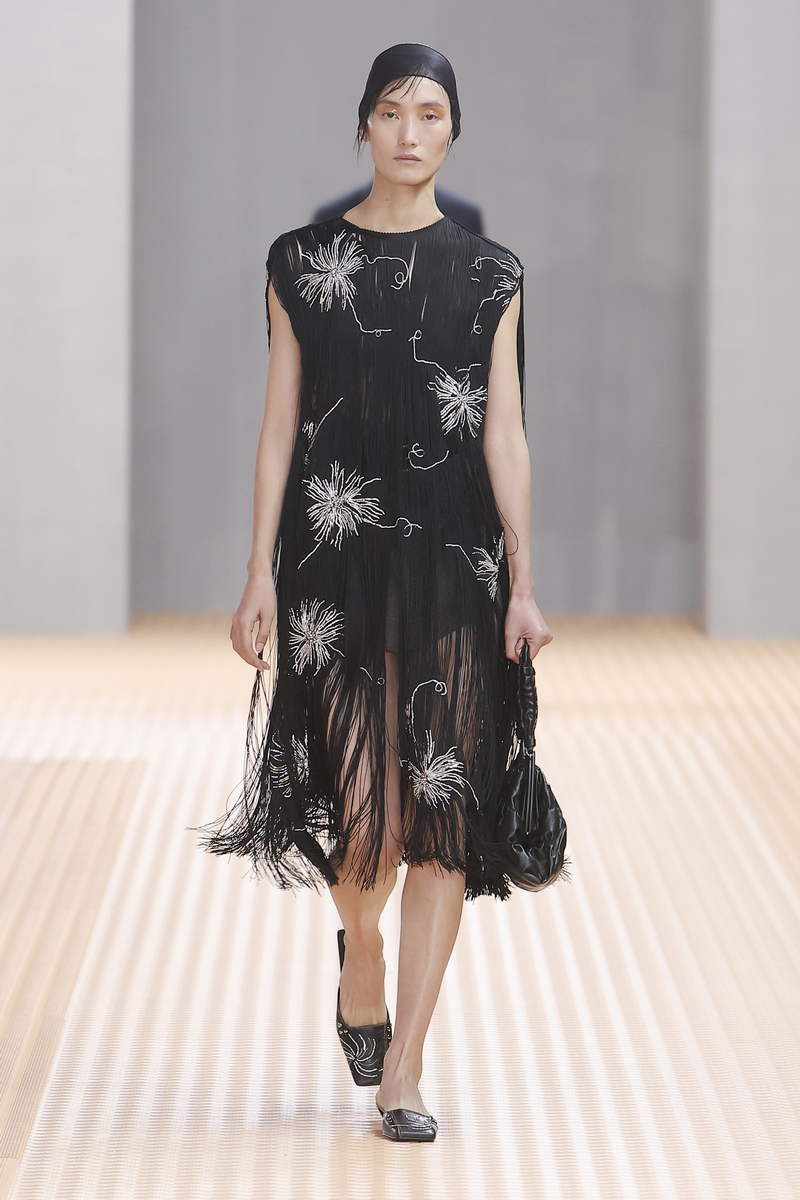 The cashmere polo shirt is another key element of the collection, presented in both a simple version and one hand-embroidered with crystals. The latter detail adds a touch of luxury and brightness making these polos perfect for a day look that doesn't go unnoticed.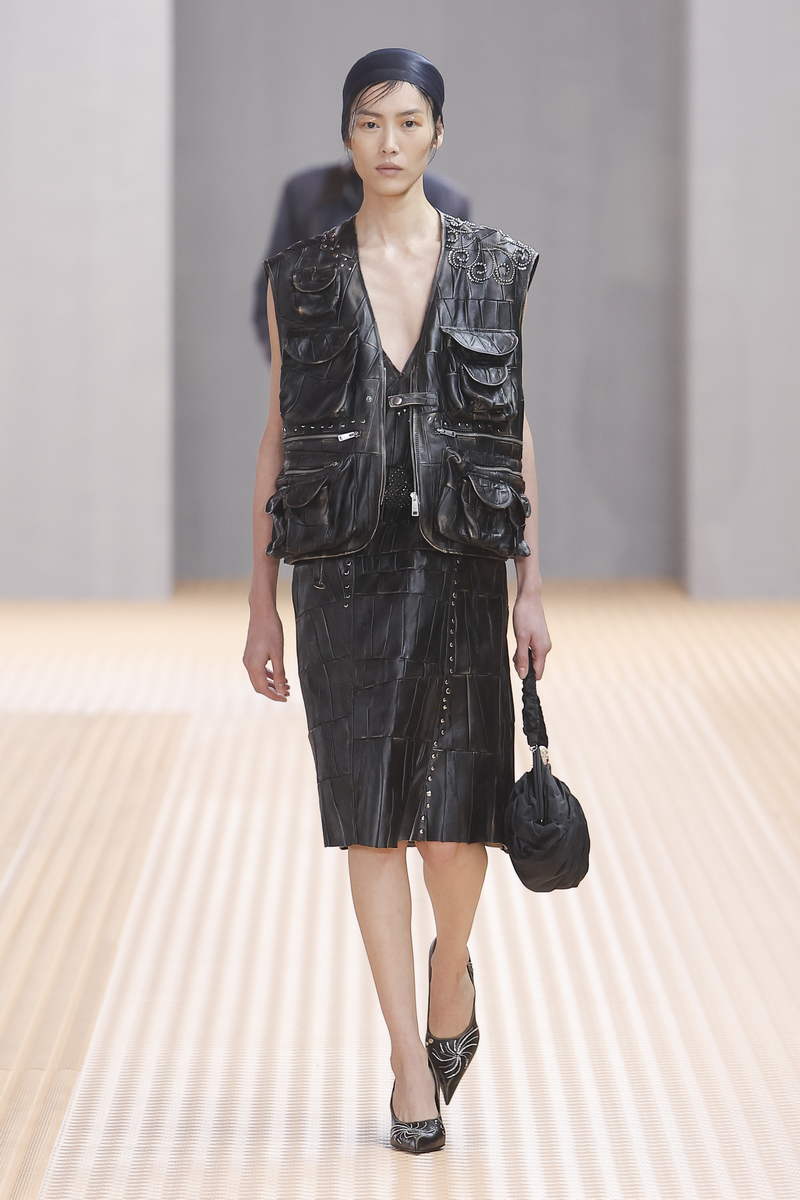 The collection also proposed a series of patchwork velvet panné dresses, hand-embroidered with metal chains and eyelets, or with crystals, chains, studs and metal eyelets. These dresses, along with the hand-embroidered patent leather ones, represent the highest point of Prada's craftsmanship, demonstrating unmatched attention to detail and an eye for innovative aesthetics.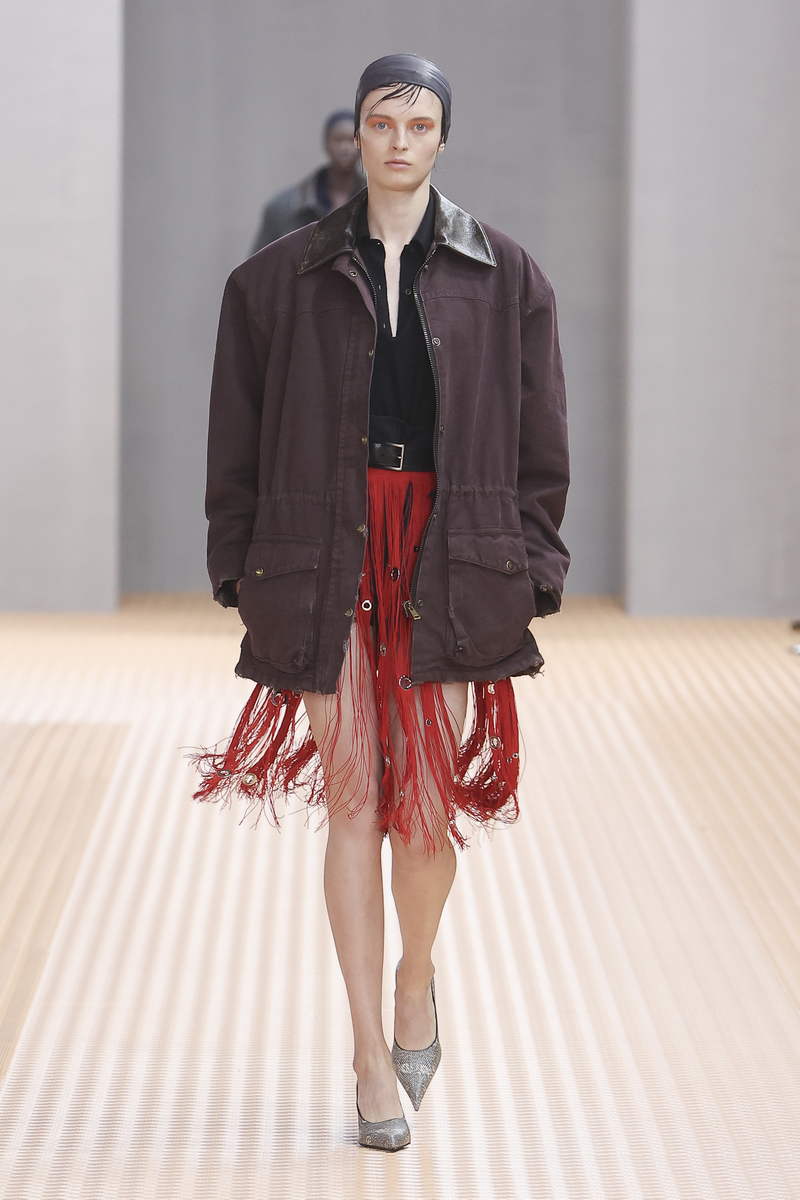 The "Haze" dress in superfine organza and gazar recurs several times, as mentioned earlier, almost like a leitmotif, underlining its importance within the collection.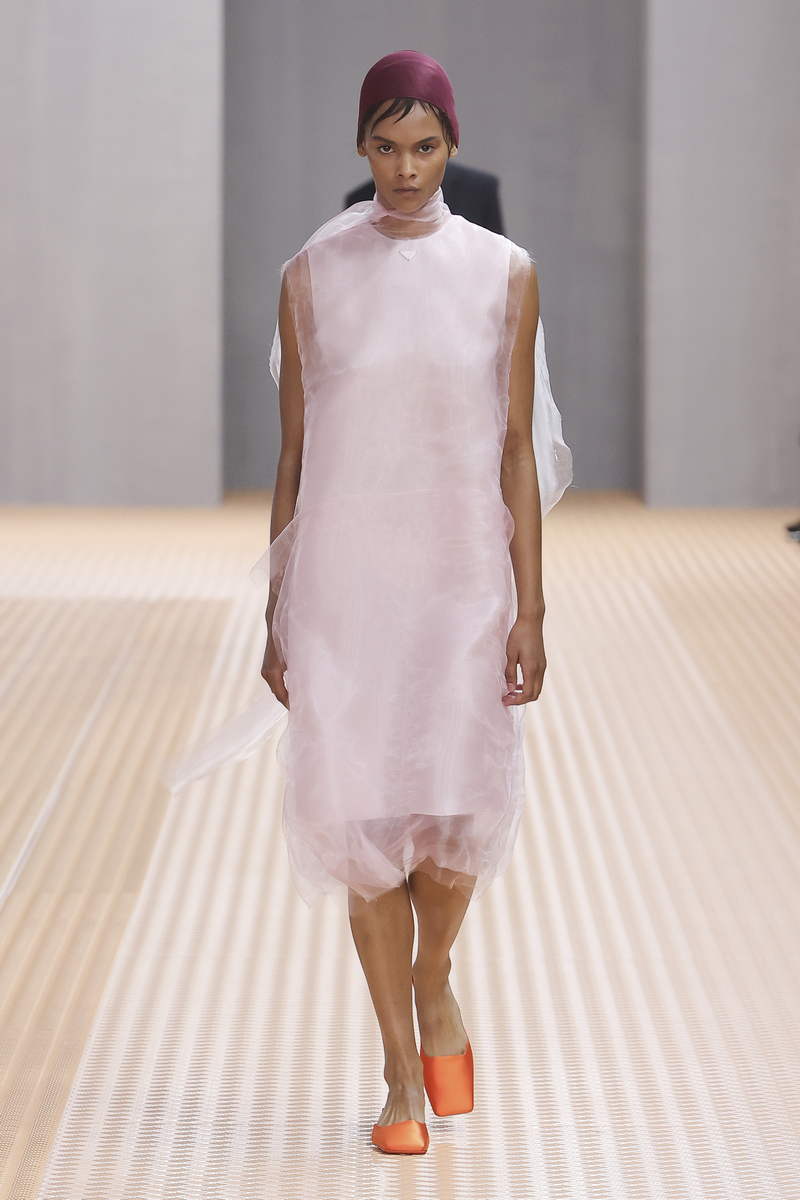 The georgette dresses enhanced by hand with feather motifs made of studs or polka dots made of crystals are a further example of Prada's talent for creating garments that are both works of art and items of clothing.
Finally, the Cocoon coat in patchwork patent leather. This garment combines the timeless elegance of a classic coat with a touch of modernity, thanks to its unique patchwork design.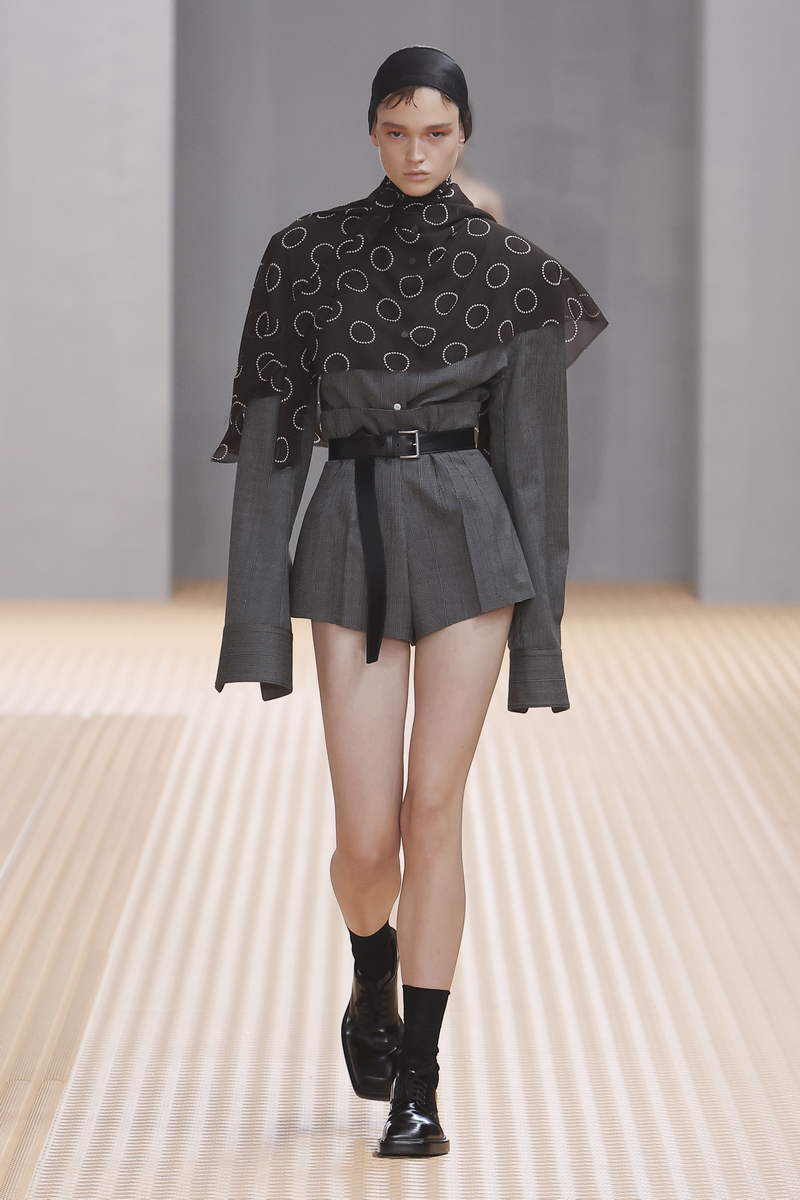 The Prada Donna collection for Summer 2024 is a triumph of elegance, refinement, and artisanal mastery. With its variety of luxury fabrics, refined details, and sophisticated designs, Prada continues to set the standard for high fashion.