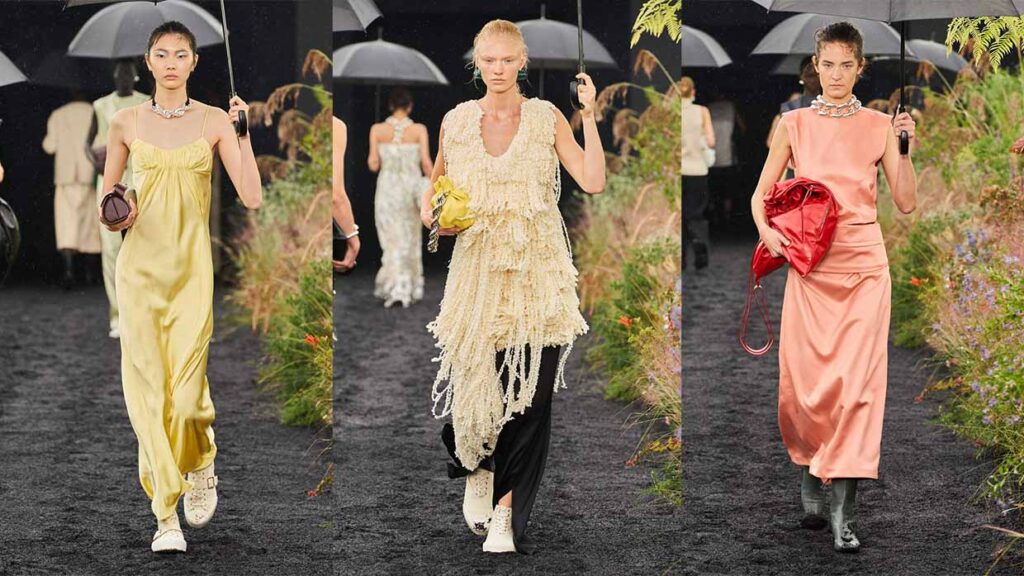 Ease, lightness, smooth lines, elongated silhouettes, solid and deep colours, the movement of sequins, not too delicate, sculptural forms, the pigment print of a vibrant cityscape under a night sky, a constant change of perspective. An ingenious simplicity of cuts, shapes, and purpose.
California as an ideal: a modern, magnifying archetype of Western culture. A space of contrasts and fusions, glamour and pragmatism, hi-tech and oneiric, measured, and boundless.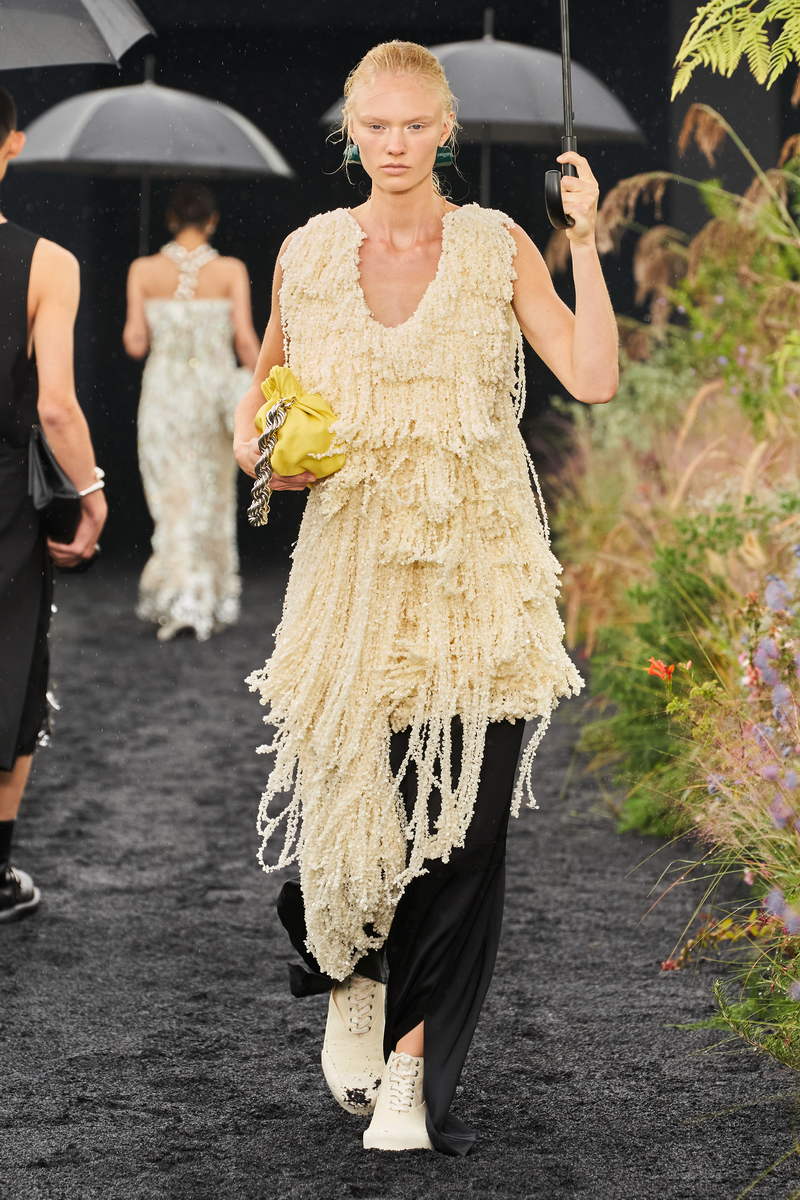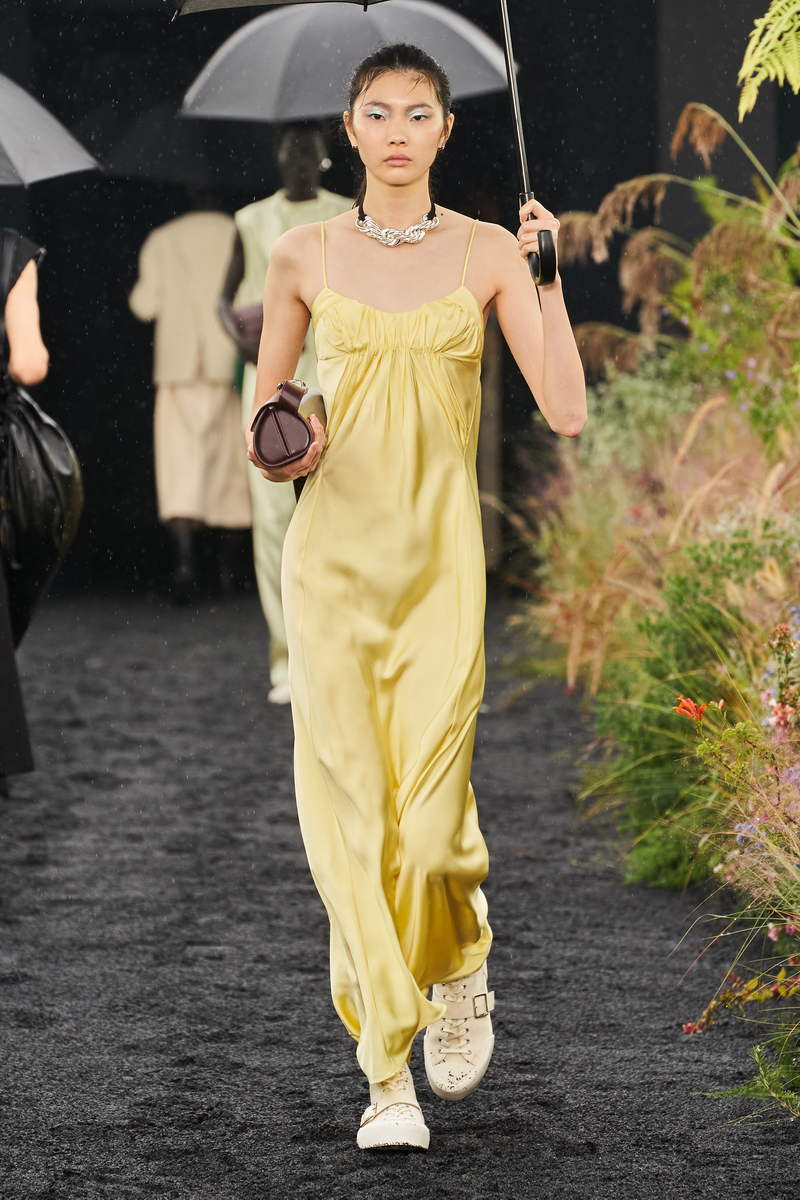 Womenswear and menswear merge, fusing day and night, labour and entertainment, function and glamour. Quickness and confidence translate into raw cuts and edges running throughout the collection. Jackets are graphic – either collarless or with generous single point lapels. A long suit in crêpe sablé is worn over vibrant vulcanized sneakers. Short dresses in chenille, or knitted with feathers, seem to be made by severing long gowns. A luscious, sculpted cotton turtleneck pullover is open at the back.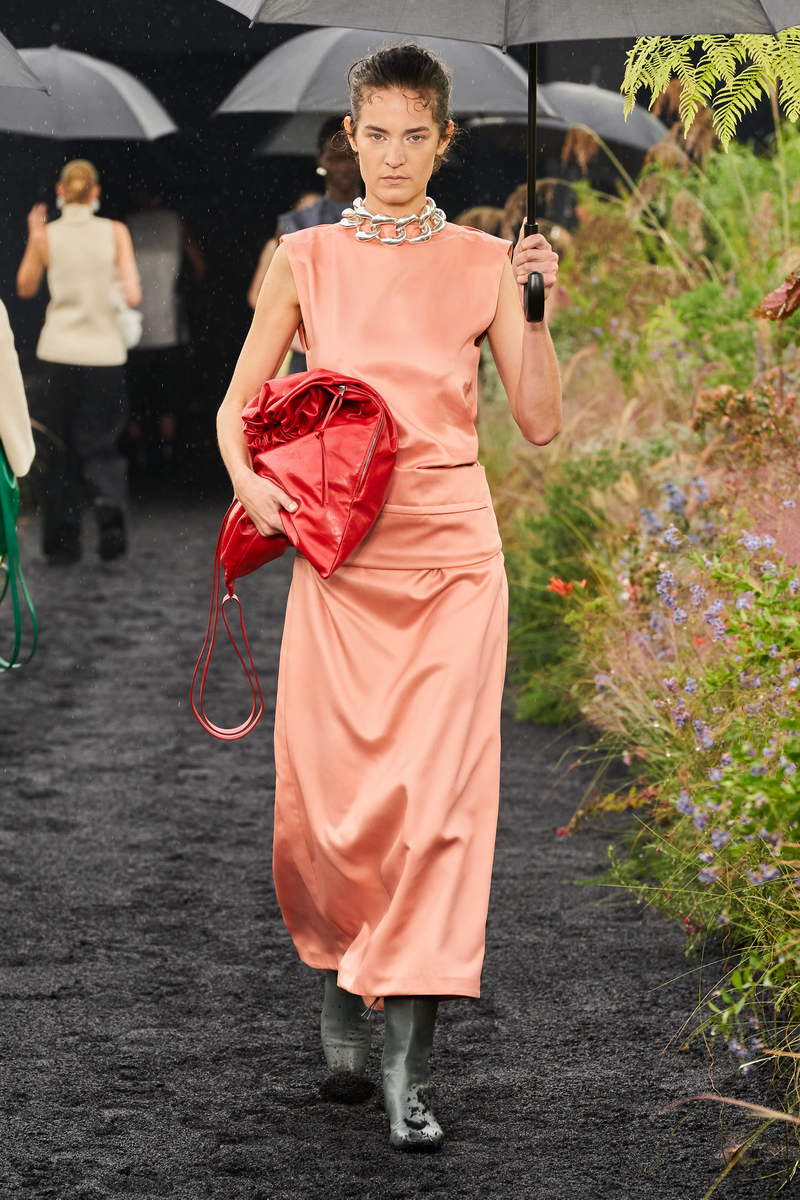 Hollywood glitz, contrasted by the pragmatic combination of tank tops and trousers, playfully reinvented and recontextualized.
Lucie and Luke Meier further expand their sartorial language deconstructing women's and men's suits; replacing jackets with lean, round neck tank tops or diagonally slashed overlapping shirts. Alternatively matched by kilts, shorts, and the signature pleated high-waisted trousers.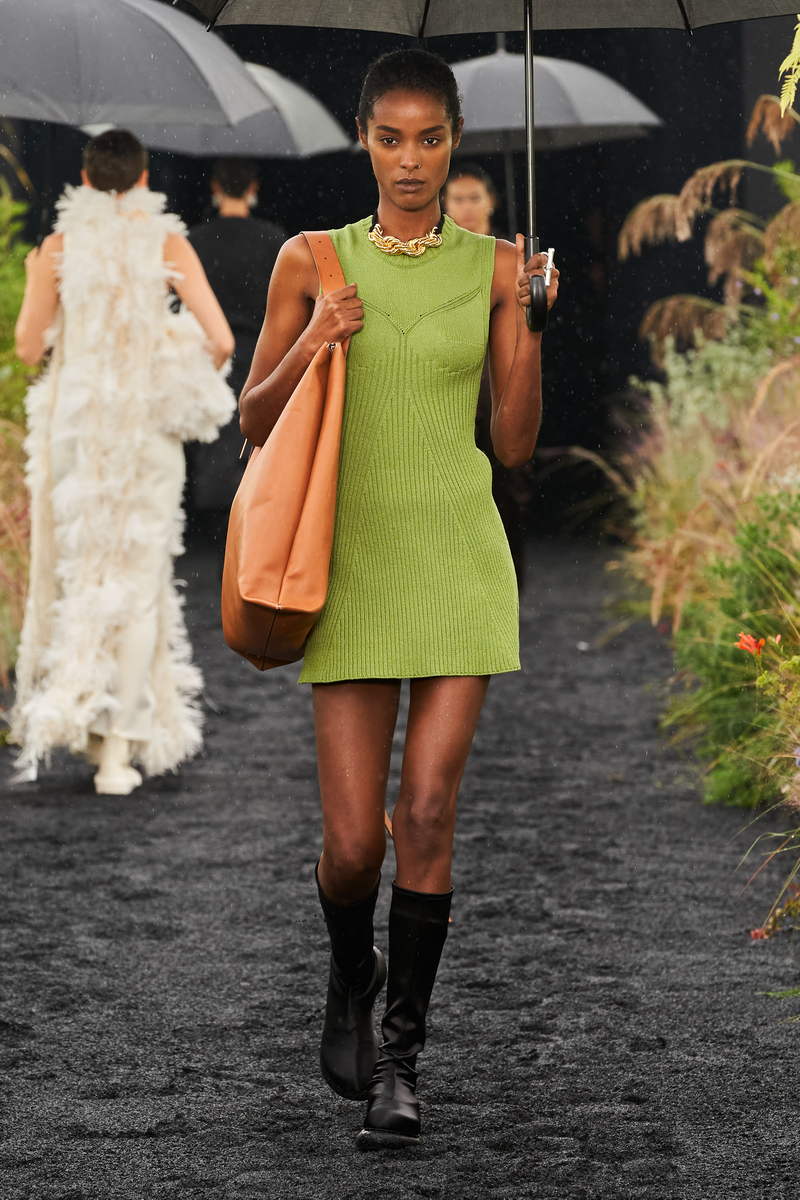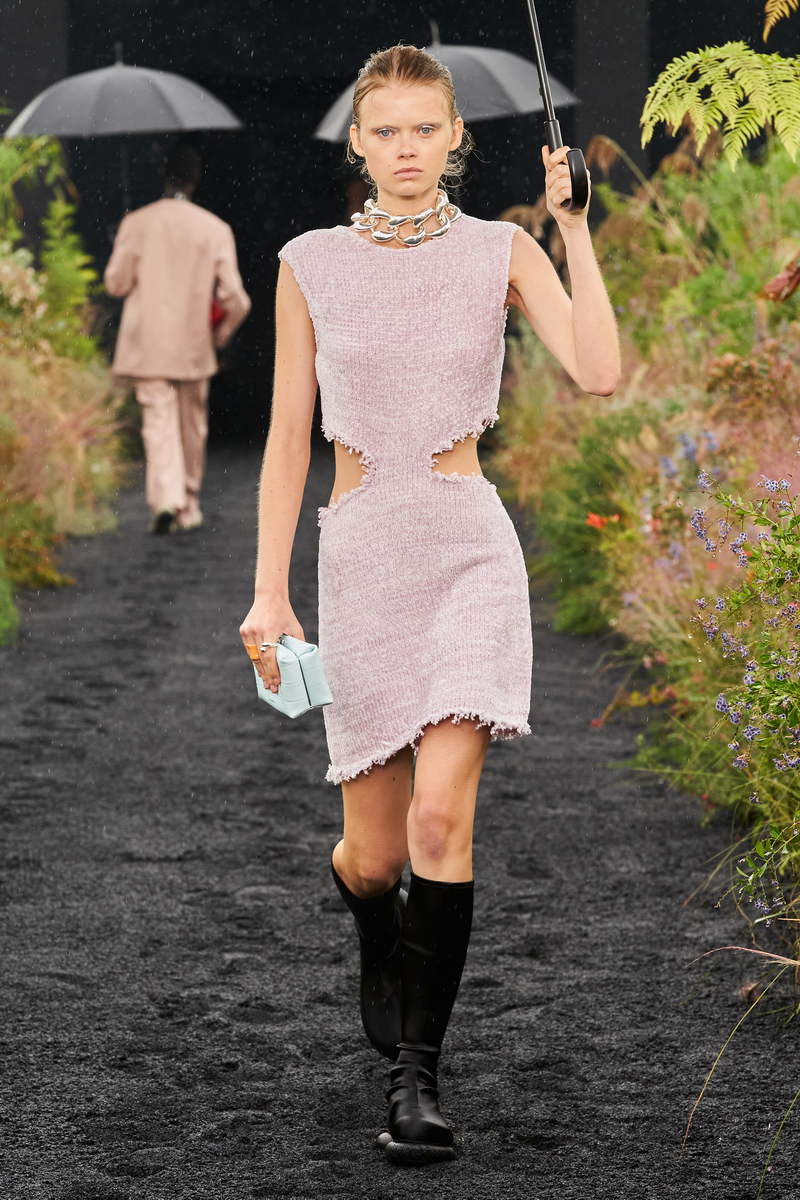 White, cream, sand, powder, peach, pale blue and green, lilac, acid green, deep framboise and magenta. Gradients of brown and grey, and yellows, from bleached to lemon. Black, gold, and silver. The colour palette is bold, bright, and varied. And so are the fabrics and materials, matt and shiny: cotton voile, soft cotton-linen, silk, crispy cotton-viscose, sharp and light wools, dimensional and delicate knitwear, overpainted suede, and goatskin.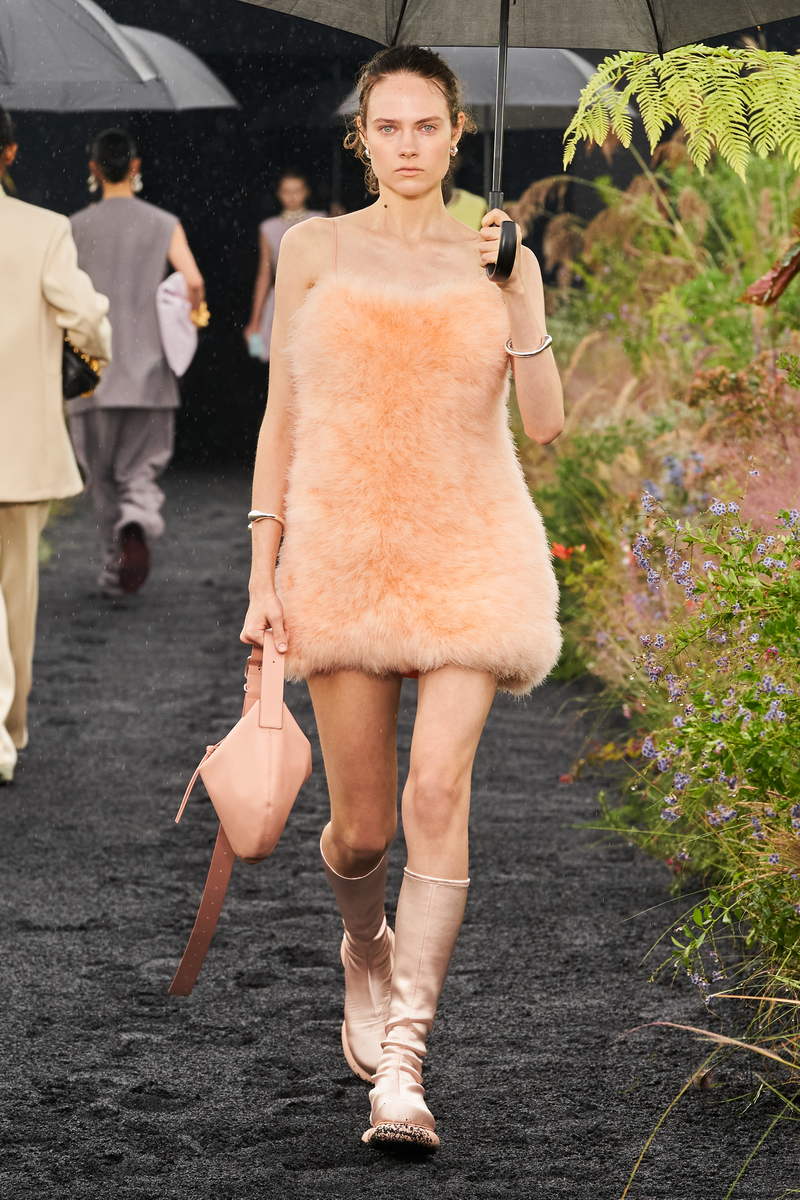 Bags are constructed with simple forms in elaborate materials, with feathers and threads of paillettes. Handbags have twisting golden and silver chain handles. A new large shiny leather shoulder bag in yellow, green, red, and black.
The colourful vulcanized sneakers, in leather and canvas, and in ready to wear fabrics mirroring the garments, are light and lean. The Chelsea boots are decisively strong while the high boots and sandals are all sculpturally rounded, underlining the lightness of the collection.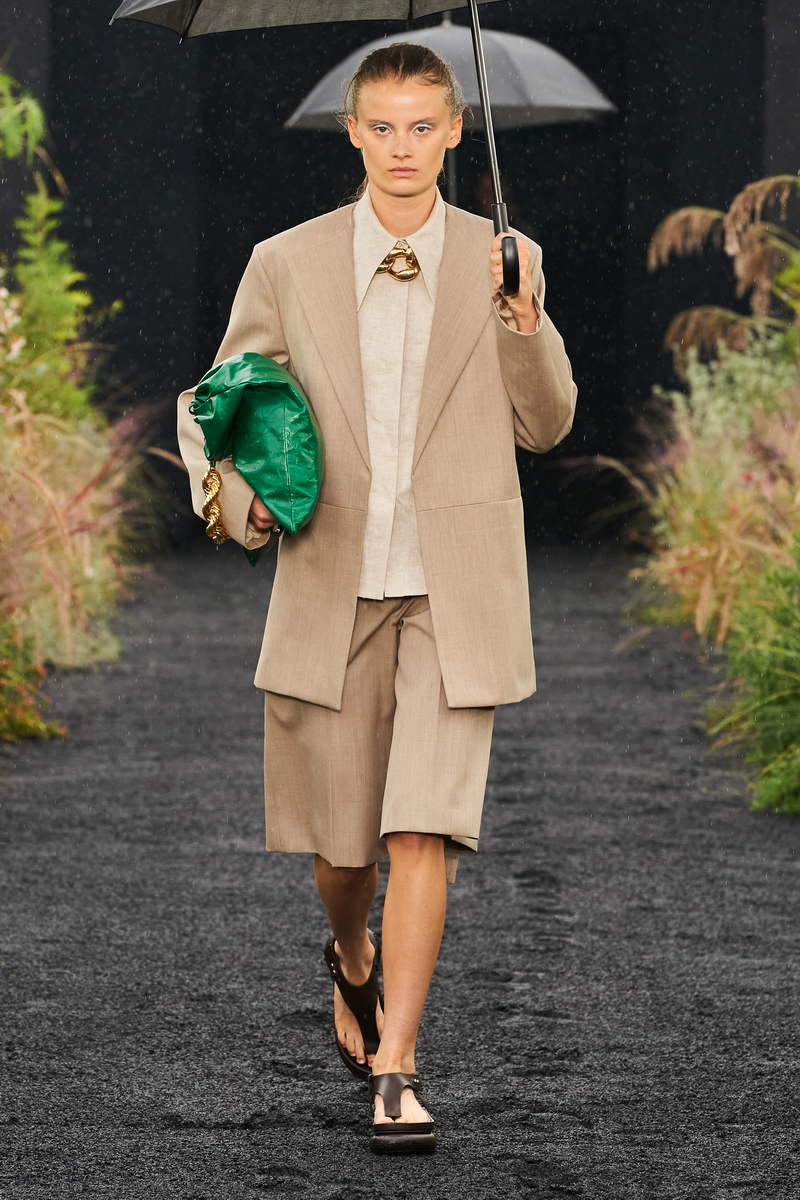 Everything has the subtlety of couture and the spark of invention, showing the dedication to rigorous design, craftsmanship, and the use of innovative materials and technique that have established Lucie and Luke Meier's Jil Sander as an epitome of modern design and sophistication.