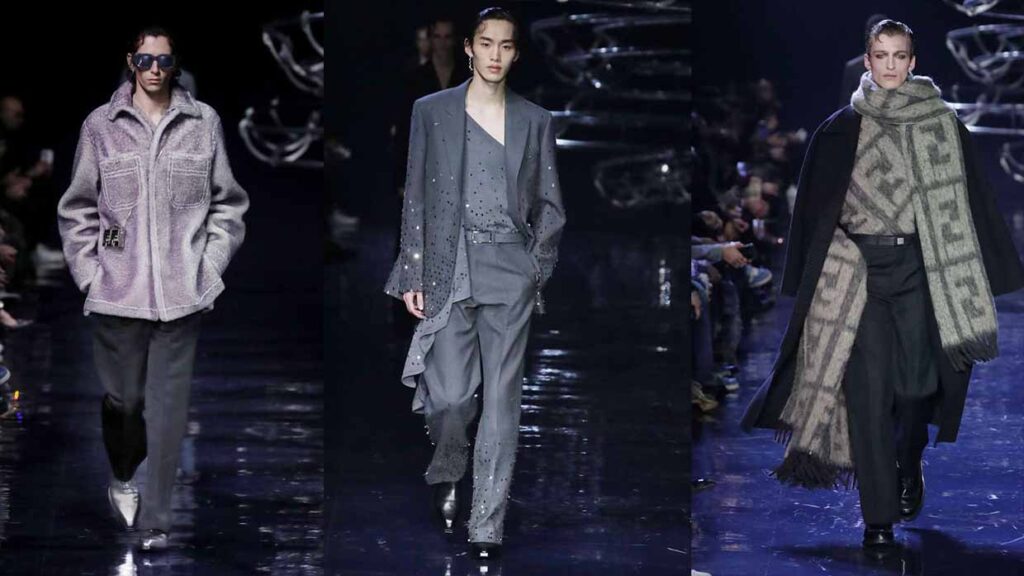 A classic revolutionary, intrinsic to the FENDI name, expressions of shimmer and brilliance are incorporated into a landscape of sartorial experimentation. Trompe l'oeil dresses are the result of a dynamic process where the codes of the Maison are subverted to create new dynamics of very soft and patinated textures. Exploring the decadence of the city and the lights that shine at dusk, the distinction between more masculine and classic silhouettes tends to disappear thanks to a dreamlike allure. Asymmetries and volumes infuse the sartorial wardrobe with geometric patterns and movement, revealing layers of craftsmanship and flashes of bare skin.
Celebrating the hallmarks of FENDI materials, double-faced (and reversible) cashmere, textured leathers and jacquard silks are illuminated by disco shades of silver, indigo and purple. Thus elevating a sober palette that alternates between shades of dove gray, oats, umber, mocha, mauve, lavender, dark blue and black.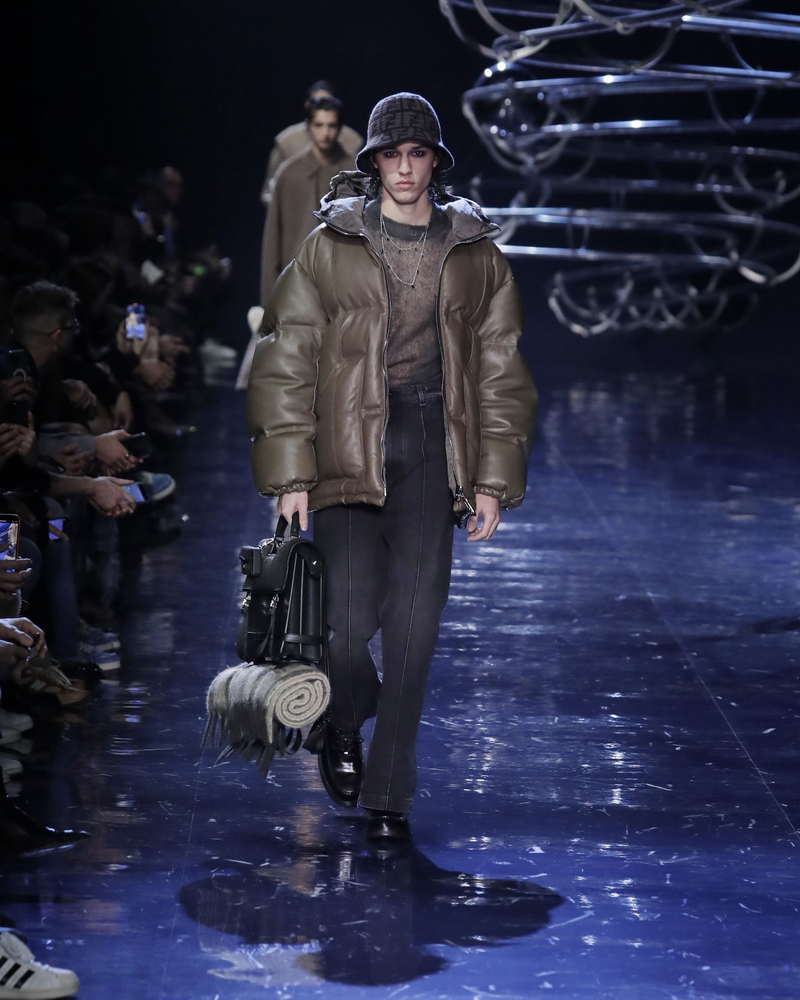 Unfolding in parallel gestures, enveloping outerwear contrasts with the sensuality of knitwear and unstructured shirts, questioning the boundaries between utility and deception. Blanket coats and ponchos and leisure suits in ribbed cashmere are closed with O'Lock zips; knit vests reveal the shoulder; flowing trousers are combined with draped skirts. Double-breasted outerwear with satin lapels, fringed hems or a series of en tremblant metallic appliqués offer purity and rigor amidst layered silhouettes. Melange textures abound, from camel jersey to Shetland wool flannel, from sprayed sheepskin to FF fleece, while dark/light effects create antique finishes in waxed or burnished leather, or overdyed denim.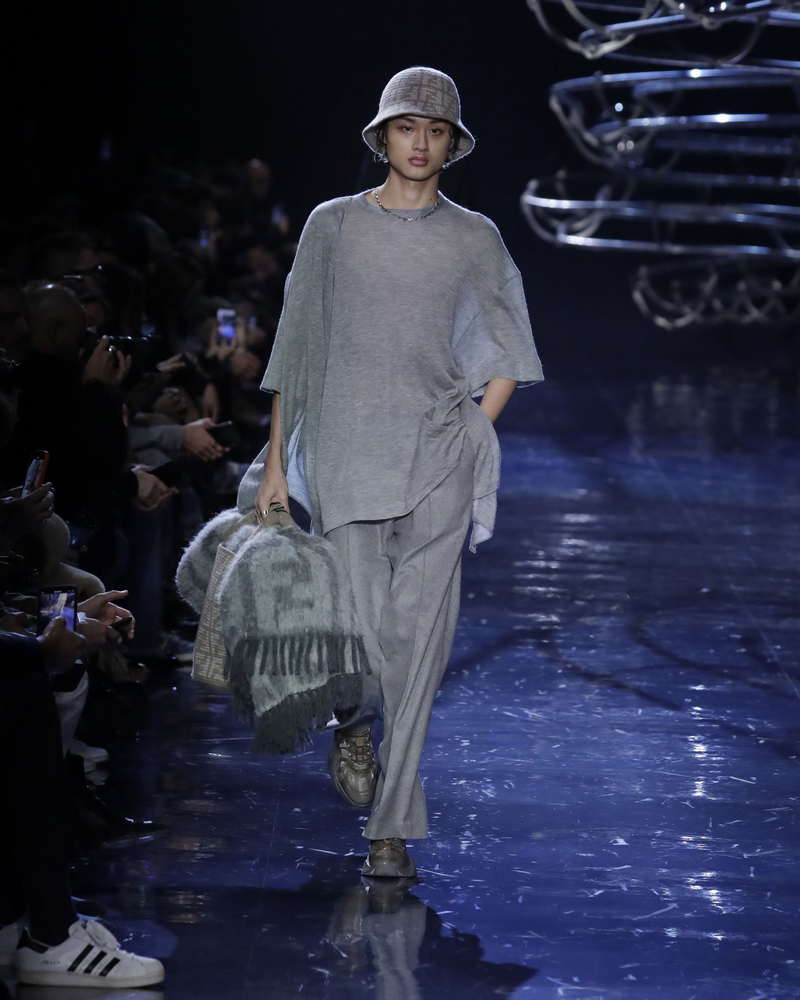 Disappearing in geometric abstraction, the FENDI Astuccio print is revisited as FENDI Shadow, a magnified logo embroidered on mohair scarves, blankets, fringed linings and pinstripe suits. The effect is one of discreet extravagance: the FENDI man is in his element on the street, at home or on the dance floor.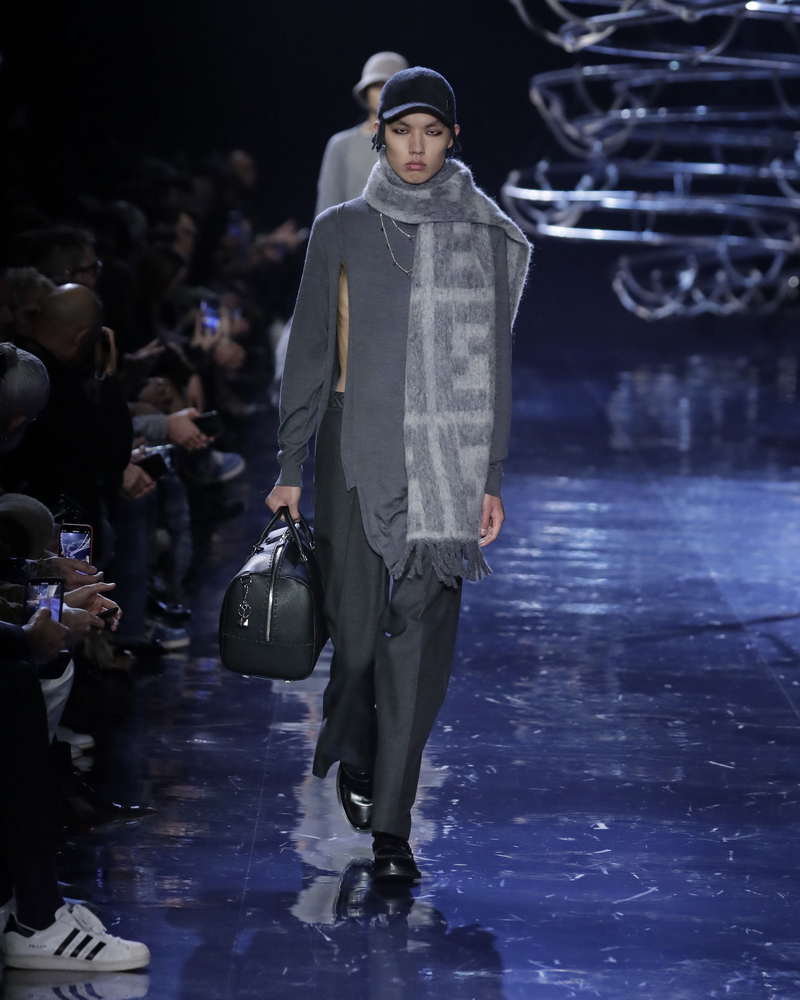 The FENDI Men's Fall/Winter 2023-24 collection is imbued with a playful charm that explores the season's hybrid formality with great precision. The Peekaboo evolves with metallic shoulder straps, sprayed sheepskin or harness details, while the Baguette is reimagined in burnished leather with all-over utilitarian pockets. In a soft gesture, the new hobo bag is finished in FENDI Shadow suede or grain leather, and the FF embroidered cashmere bucket bags contain fringed blankets. On the new Chiodo backpack, ergonomic shoulder straps hinge on metal levers creating a futuristic design statement when combined with the FENDI Shadow motif in black leather.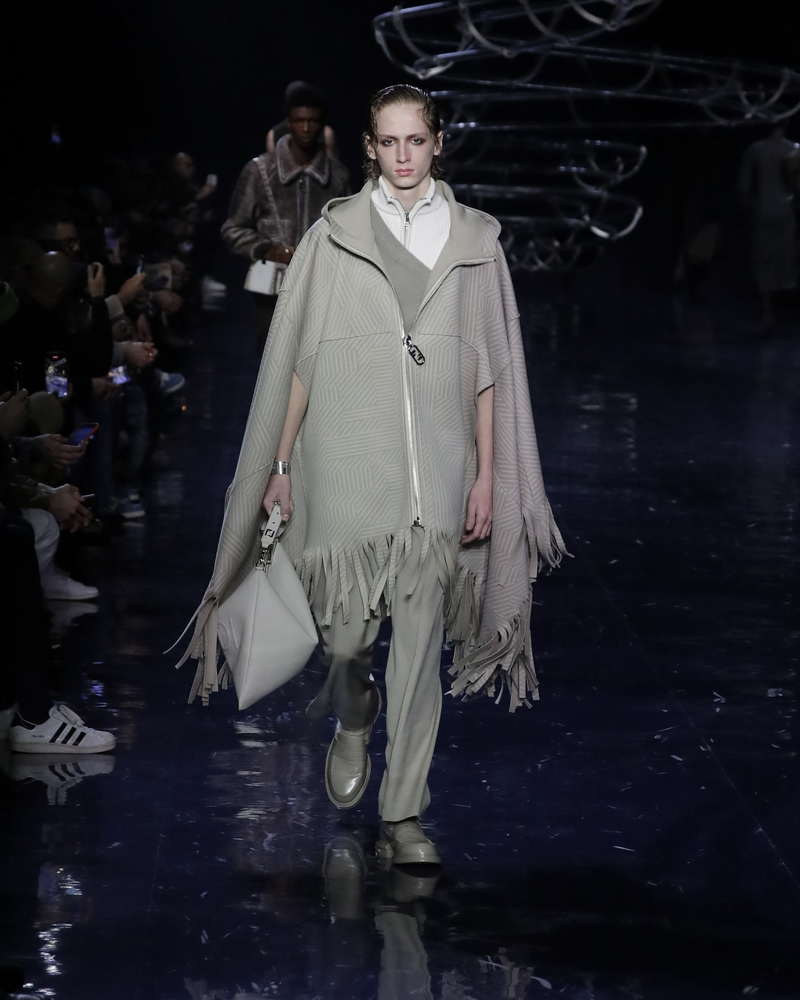 On the feet, the FF logo boxed on the heel enriches Cuban boots, FENDI Frame loafers and lace-ups, while the FENDI Flow sneakers are back, this time with scuba details, in mesh or transparent.